So, does this ever happen to you? There are certain items we buy every week at the grocery store because our kids, who are not the best eaters, like them. You can bet that there will always be a plethora of yogurt in my refrigerator and fruit. At least some of the food they like is healthy, right? I do most of the shopping, but occasionally my husband goes to the store to pick up a few things. And that's when it inevitably happens. Somehow we have both purchased the usual items, and we are overloaded with them.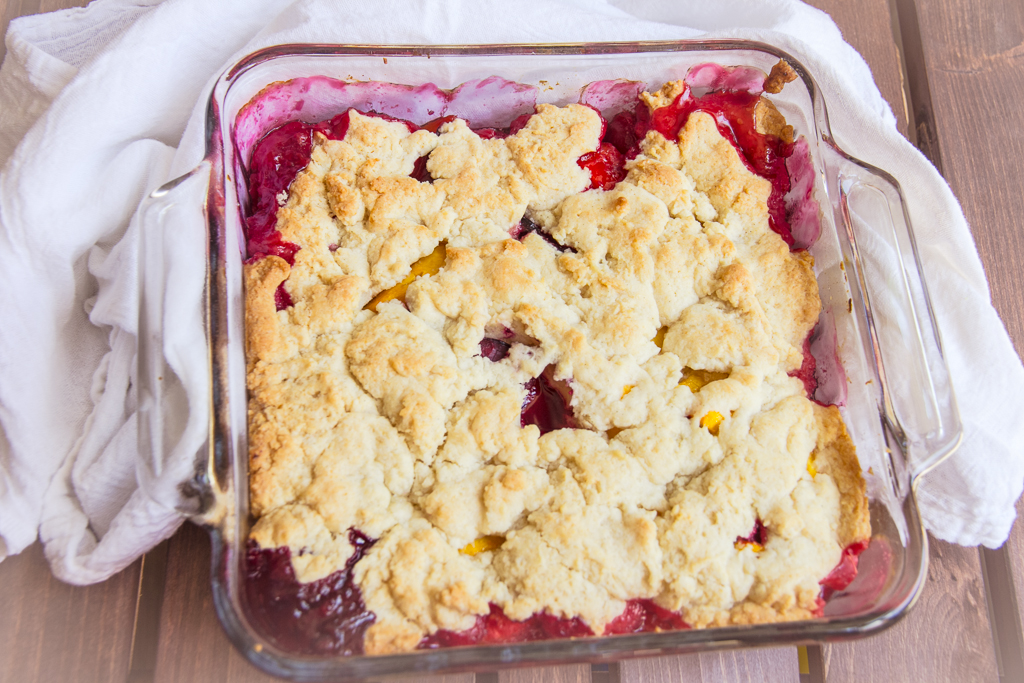 This past week, the hubs and I both went crazy at the store buying peaches, plums and nectarines. Like really crazy. There was no way we could eat all of this fruit. I decided something needed to be done to use it up as the fruit was definitely on its way out. Enter the cobbler. I've mentioned my love of all things pie before, and the same applies to cobbler, crisps and whatever else you can make out of fruit. I like fruity desserts. There, I said it. I'd much rather have cobbler than say, a slice of cake or brownies. I just really really like fruity desserts.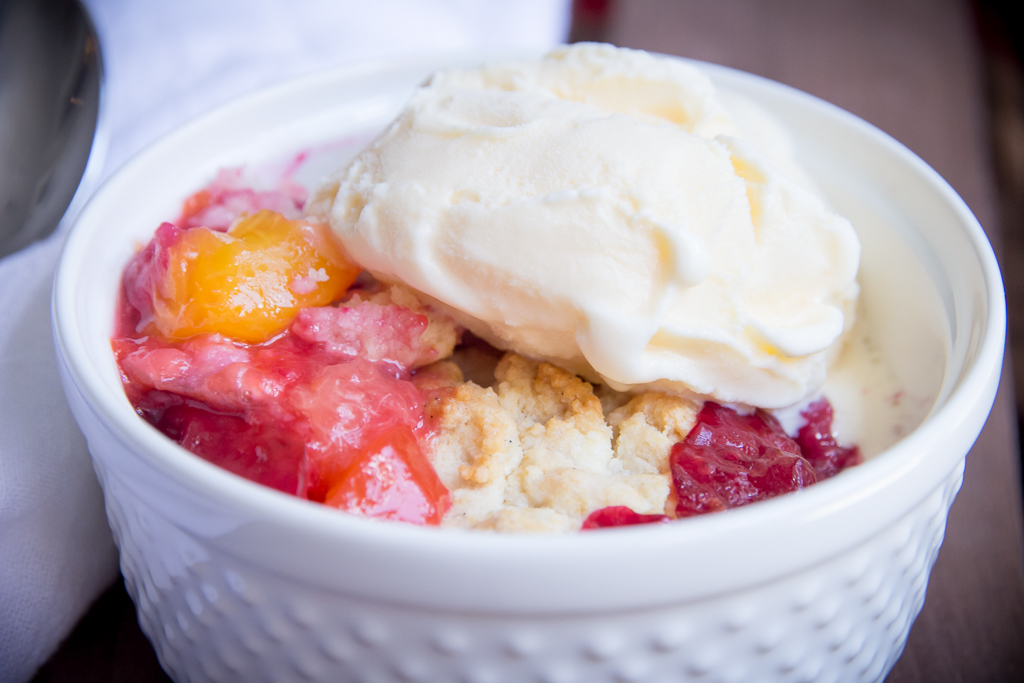 I found a recipe on Baking Bites and decided to give it a whirl. Granted, I adapted it a bit to fit the fruit I had on hand. Presenting Peach Plum Nectarine Cobbler! This is a good basic cobbler recipe. It's not fancy. It's not pretentious. It's not complicated. It's just good. I can see substituting whatever abundance of fruit you have and still realizing a fabulous result. Definitely taste your fruit before adding the sugar to the bowl. If your fruit is not that sweet, consider adding a little extra sugar than the recipe calls for to compensate. Enjoy!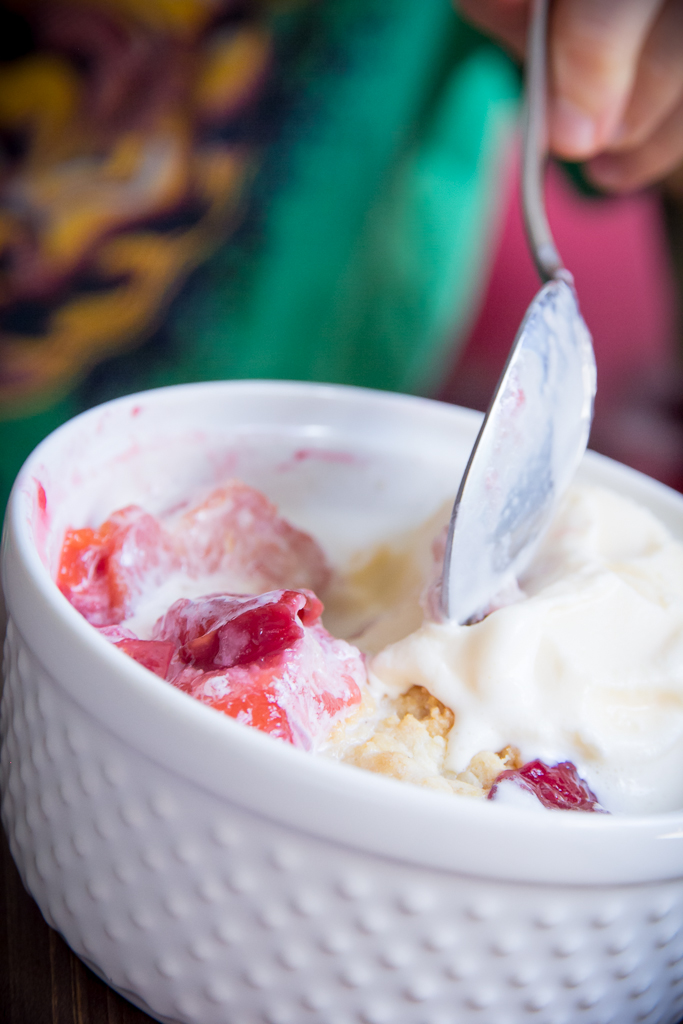 Peach Plum Nectarine Cobbler

Print recipe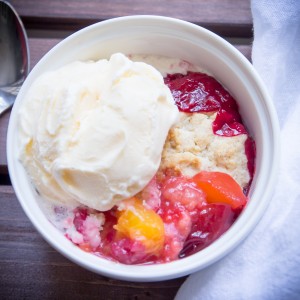 | | |
| --- | --- |
| Serves | 6 - 8 |
| Prep time | 15 minutes |
| Cook time | 45 minutes |
| Total time | 1 hour |
| Allergy | Milk, Wheat |
| Meal type | Dessert |
| Misc | Serve Cold, Serve Hot |
| Website | Adapted from Baking Bites |
Ingredients
3 peaches (peeled, pit removed and cut into 6-8 pieces)
4 plums (unpeeled, pit removed and cut into 4 pieces)
3 nectarines (peeled, pit removed and cut into 6-8 pieces)
1 1/2 teaspoon cornstarch
2 tablespoons sugar (or adjust to the sweetness of your fruit)
1 1/2 cup flour
1/3 cup sugar
1 teaspoon baking powder
1/4 teaspoon salt
6 tablespoons butter (melted and cooled)
1/4 cup milk
1 teaspoon vanilla extract
Directions
Step 1
Preheat oven to 350 degrees. Taste your fruit before adding sugar. Place prepared fruit into a large bowl and toss gently with 2 TBS of sugar and the cornstarch. Depending upon the sweetness of your fruit, you may need to use additional sugar for taste preference.
Step 2
In medium bowl, whisk together flour, 1/3 cup sugar, baking powder and salt.
Step 3
Pour in melted butter, milk and vanilla and stir with a fork until the dough comes together into a soft, slightly sticky dough.
Step 4
Arrange fruit in an even layer in 8 x 8 (2 quart) baking dish. Break up cobbler topping with your fingertips and spread it evenly over the fruit. It is fine if some of the fruit is still visible.
Step 5
Bake for 45-50 minutes, until topping is golden brown and fruit is tender when pierced with a sharp knife. Tent the cobbler with aluminum foil for the last 5 minutes if you feel your cobbler is starting to get too brown. Allow to cool for at least 15 minutes before serving.