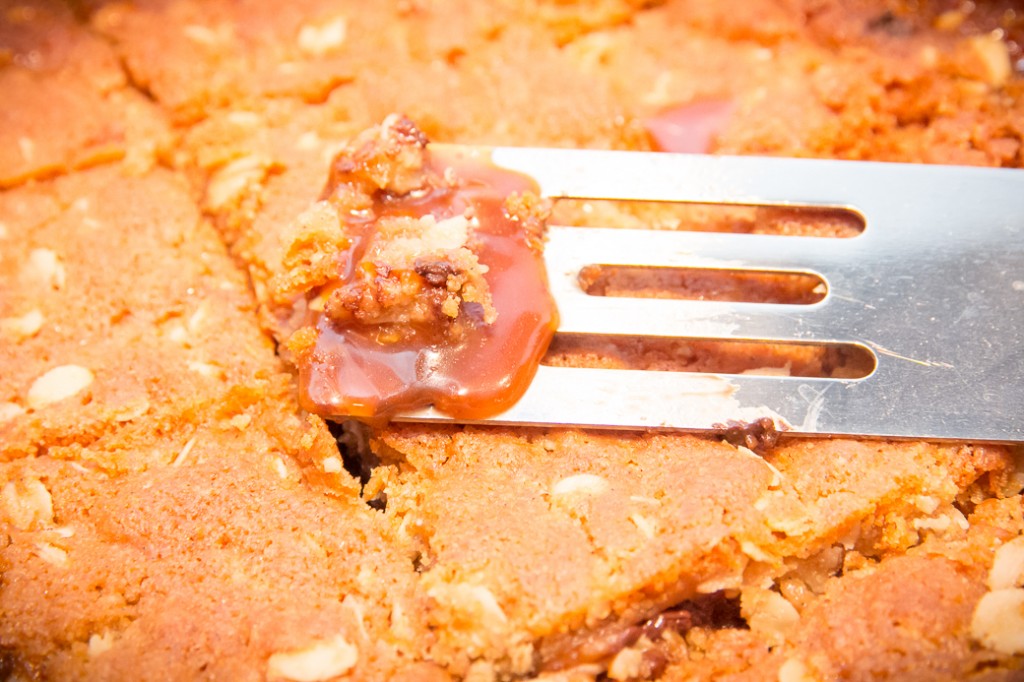 Happy Labor Day to you! I hope everyone is enjoying a nice day off. We celebrated the day yesterday with a little get-together by the pool. It just might be the last hurrah of the summer poolside, and I really wanted to make a new dessert. I've seen this recipe for Carmelitas floating around Pinterest for some time now…first from Lulu the Baker and then from Averie Cooks, among others. The pictures were enough to make your mouth water.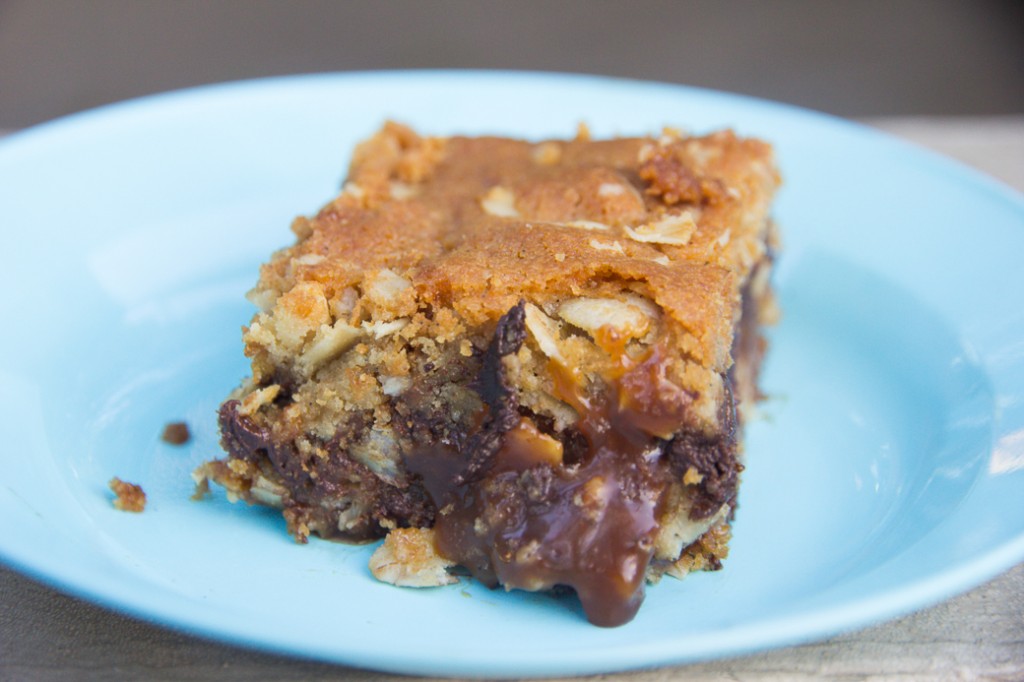 Both recipes call for making your own caramel sauce using 30+ caramel candies, but alternatively said you could use store-bought caramel sauce. Averie Cooks mentioned the salted caramel sauce from Trader Joe's, which I have seen before, but never purchased. I don't know about you, but sauce already made vs unwrapping 30+ caramel candies and making my own sauce. Yeah, it wasn't a tough decision. Besides, I thought the salted caramel sauce would be SO good.

These Salted Carmelitas are really easy to make, too. I love a recipe that doesn't dirty my mixer! You mix this all by hand, and with the store-bought caramel sauce, it just comes together that much quicker. The hardest part was waiting for the Salted Carmelitas to cool off so we could taste them. They were so worth the wait. The gooey deliciousness did not disappoint. The Salted Carmelitas are just oozing with caramel and chocolate. What could be bad about that?!! My husband thought they were a tad too sweet, but that didn't stop him from polishing off a bar or two. Just saying! Our guests seemed to enjoy them, too.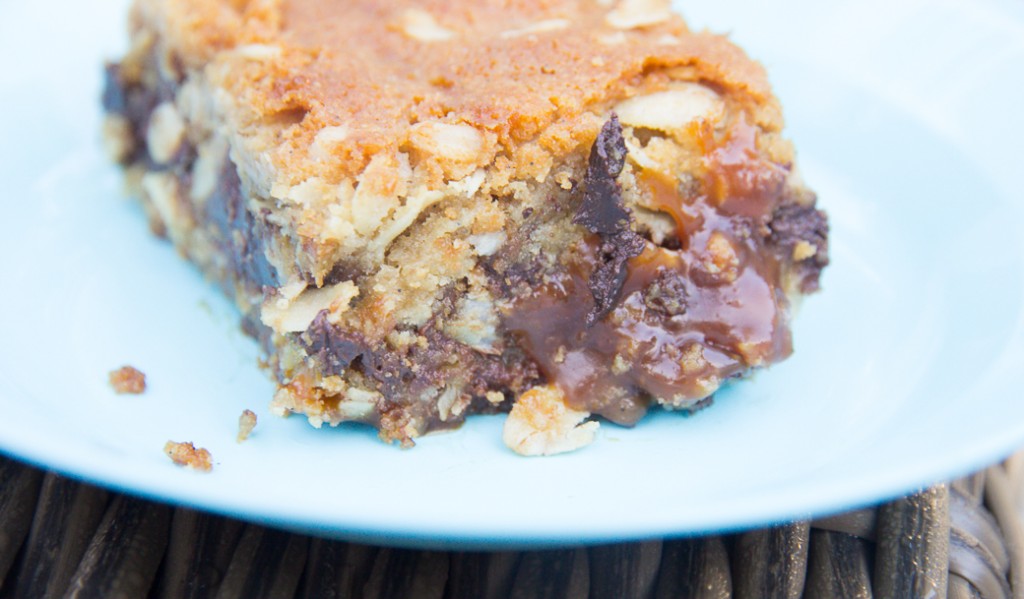 These Salted Carmelitas need a chunk of time to cool off before serving so keep that in mind in you are making the recipe! Enjoy!
Salted Carmelitas

Print recipe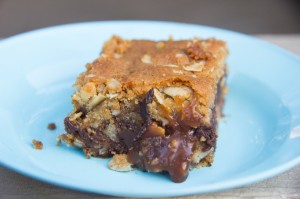 | | |
| --- | --- |
| Serves | 9-12 |
| Prep time | 15 minutes |
| Cook time | 30 minutes |
| Total time | 45 minutes |
| Allergy | Milk, Wheat |
| Meal type | Dessert |
| Misc | Freezable |
| Website | Adapted from Lulu the Baker AND Averie Cooks |
Ingredients
3/4 cups unsalted butter (1 1/2 stick)
3/4 cups light brown sugar (packed)
1 tablespoon vanilla extract
1 cup all-purpose flour
1 cup whole-rolled old fashioned oats (not instant or quick cook)
1 teaspoon baking soda
1 cup semi-sweet chocolate chips or chunks
1 1/2 cup salted caramel sauce (I purchased mine at Trader Joe's; I used the entire jar)
Directions
Step 1
Preheat oven to 350 degrees F. Spray an 8 x 8-inch pan with cooking spray (I used Pam Baking Spray). Set pan aside.
Step 2
In a separate bowl, combine melted butter, brown sugar, vanilla, flour, oats, and baking soda. Mixture will be thick.
Step 3
Pat half of the oatmeal mixture evenly into the bottom of the 8 x 8-inch pan. This does not have to be exact. Use your best judgment! Bake at 350 degrees F for 10 minutes.
Step 4
Remove pan from oven and sprinkle chocolate chips or chunks over the crust. Pour caramel sauce evenly over the chocolate. Evenly crumble the remaining oat mixture over the caramel.
Step 5
Return to oven and bake for an additional 15-20 minutes, until the edges are lightly browned.
Step 6
Remove from oven and allow bars to cool completely before slicing and serving, giving the melted caramel time to firm up. This can take up to 4 hours, or overnight, at room temperature. If you are pinched for time, you can speed up the process by placing it into the refrigerator. Bars will keep in an airtight container at room temperature for up to 1 week, or in the freezer for up to 4 months.