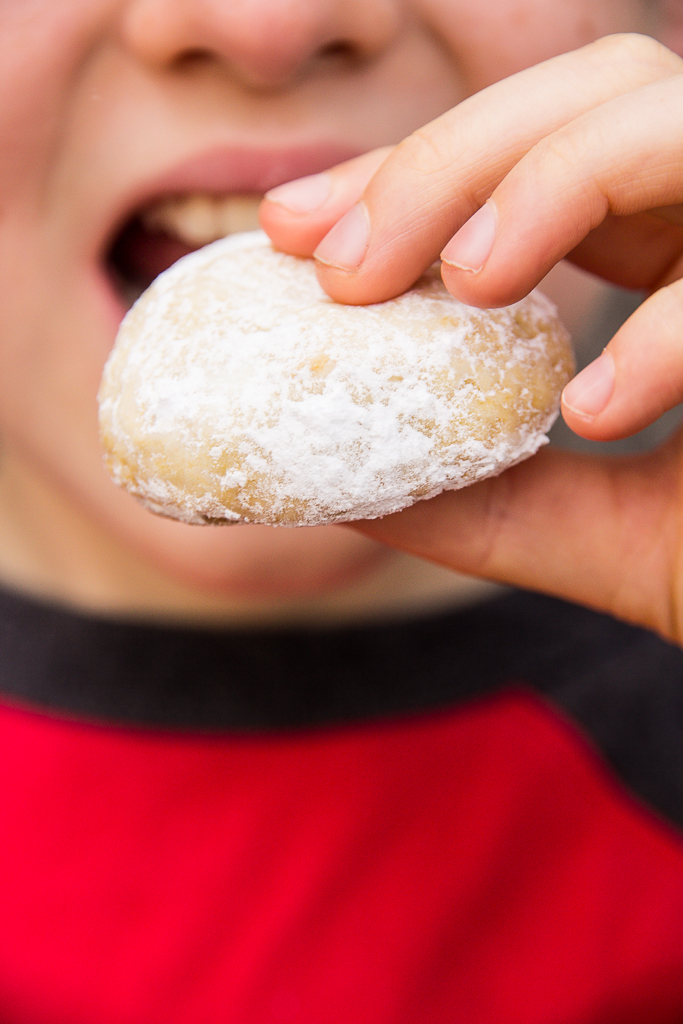 Did you ever eat Lemon Coolers? These cookies may have been my favorite store bought cookie ever. I love lemon, and these cookies were covered in powdered sugar. What more could you ask for? Whenever you would put a cookie to your mouth, one breath could send a puff of sugary smoke into the air. Super messy, but delicious.

It's getting hotter here (like only Texas summers can), and I started thinking about lemonade, which got me thinking about the aforementioned cookies. I decided to see if I could make them myself. I searched the internet high and low for the right recipe and settled on this one from Sophistimom. The recipe is called Chewy Lemon Snowdrop Cookies. The cookies definitely have the look of my old-time favorite, but I didn't think they had enough lemon to satisfy me. I adapted the recipe by doubling the lemon juice that the original recipe called for, plus adding few extra tablespoons of flour to offset the additional liquid. I have to say the cookies were really tasty. The dough is really yummy, too (not that I licked the bowl clean or anything like that).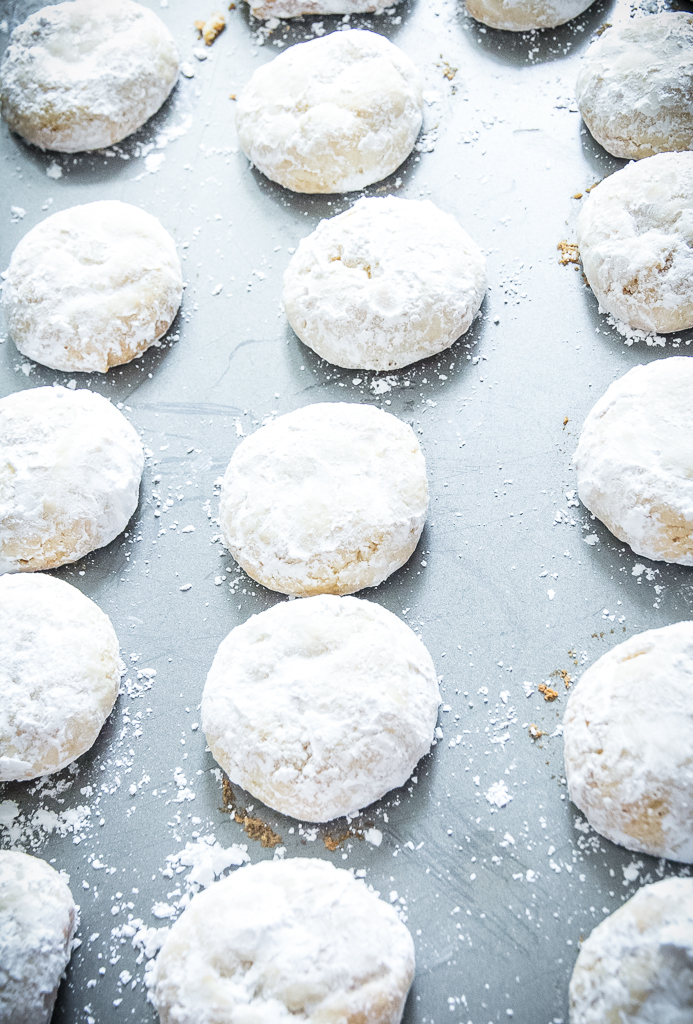 My über picky eater son eagerly devoured a few, too. Hope you take the time to cool off this summer with some chewy lemon snowdrop cookies!
Chewy Lemon Snowdrop Cookies

Print recipe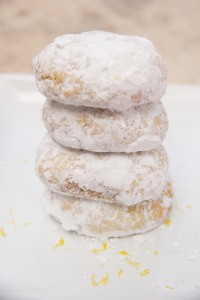 | | |
| --- | --- |
| Serves | 15 - 20 cookies |
| Prep time | 10 minutes |
| Cook time | 10 minutes |
| Total time | 20 minutes |
| Allergy | Milk, Wheat |
| Dietary | Vegetarian |
| Meal type | Dessert |
| Misc | Child Friendly, Freezable |
| Website | Adapted from Sophistimom |
Ingredients
1 3/4 cup unbleached all-purpose flour (+ an additional 2 TBS of flour)
pinch salt
1 stick butter (or 8 TBS)
Zest of 2 lemons
1/2 cup sugar (granulated)
1/4 cup agave nectar or honey
1 teaspoon baking soda
4 tablespoons lemon juice
1 cup powdered sugar (for coating)
Directions
Step 1
Preheat oven to 350 degrees. In a medium sized bowl, whisk together flour and salt. Set aside.
Step 2
In an electric mixer fitted with the paddle attachment, cream together butter, lemon zest, sugar, and agave nectar (or honey). Mix until smooth, about 3 minutes. Scrape down the sides of bowl.
Step 3
With the mixer off, add in baking soda. Pour lemon juice on top, and turn the mixer to medium, and mix for a couple of turns of the beaters. Be advised that the baking soda and lemon when combined fizzes a little. Add in flour and salt mixture, and mix on low until just combined. Scrape down sides of bowl with a rubber spatula and mix the dough by hand a few times to ensure an even distribution of the ingredients.
Step 4
Roll the dough into balls, one inch in diameter. Place on an ungreased cookie sheet and bake for 10-12 minutes, or until just barely starting to brown. Let cool for a few minutes on the cookie sheet, and then toss in powdered sugar to coat.